Clinical Biochemistry Service
The Centre for Clinical Biochemistry carries out Good Laboratory Practice and high-quality diagnosing in compliance with the international standard for medical laboratories SRPS 15189:2014, acknowledged by the Accreditation Certificate awarded by the Accreditation Body of Serbia (Akreditaciono telo Srbije – ATS).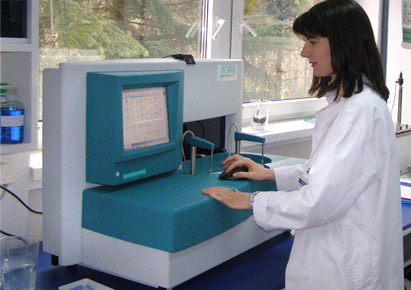 Over 60 different diagnostic general biochemistry parameters are examined in the Centre, as well as specific parameters of the pathology of the heart, lungs, liver (high sensitive troponin , Pro-BNP, angiotensin converting enzyme (АCЕ), adenosine deaminase (ADA)), immunochemistry parameters (immunoglobulins А, М, G and Е, alpha 1-antitrypsin, haptoglobin), markers of inflammation and septic conditions (C-reactive protein, procalcitonin), hematologic and coagulation parameters (D-Dimer).
The equipment of the Centre is automated and includes single-and multi-channel biochemical analysers, Mindray BS 400 and BT 1500 biotechnica, haematology cell counters 5-DIFF, Horiba ABX 80 and Sysmex XS 500 automated coagulation devices ACL ELITE PRO I STAGO SATELLITE, immunochemistry analysers, Mini-Vidas, electrolyte ion-selective analysers, and other devices.
The daily performed internal quality control and participation in the external control EQAS-BIORAD secure accuracy, precision and reliability of the obtained findings.
The Centre has 22 employees: three specialists in medical biochemistry, three advanced laboratory technicians and 12 laboratory technicians.
All staff members of the Centre constantly improve their knowledge through education courses and meetings, innovation courses and professional seminars in the country and abroad, as well as through constant keeping in touch with the latest scientific reports and publications.