Institute

Pulmonary Oncology Clinic
The Clinic for Pulmonary (Thoracic) Oncology
The Clinic for Pulmonary (Thoracic) Oncology is one of the largest clinics of the Institute for Pulmonary Diseases of Vojvodina, Sremska Kamenica (Serbia). Over the last five years there have been, about 2,500 patients admitted to the Clinic early; of them, between 1,300 and 1,400 are new lung cancer patients averagely discovered in a year.
The Clinic applies modern diagnostic, treatment and monitoring procedures of lung cancer patients. The treatment approach accepted at the Clinic has been considerably improved in the recent five years by developing the personalised treatment modality based on the fact the patients with the same diagnosis may have a different response to the same therapy applied. The concept "the same treatment for all" has accordingly been abandoned, and substituted by the "targeted (biological) treatment" concept. Since 2014, the Clinic has been maintaining a permanent, close cooperation with the Laboratory for Molecular Genetics of the Institute performing daily tumour tissue analyses crucial for appropriate treatment selection for each lung cancer patient.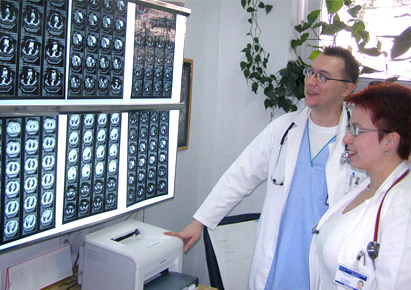 The Clinic also includes Radiotherapy Department opened in September 2016, where irradiation treatment is every day provided for 50 patients on the average. This extended treatment approach to lung cancer patients has resulted in providing oncologic pulmonary patients with the latest treatment (including all its modalities in compliance with world standards and guidelines) at one place and in the shortest possible time.
Numerous scientific investigations and research projects are carried out at the Clinic for Pulmonary (Thoracic) Oncology, aimed at discovering the most effective treatment for lung cancer. The patients with the established lung cancer diagnosis may at the Clinic receive the latest targeted (biological) therapy with tyrosine-kinase inhibitors (1st and 2nd generation. Participating in clinical trials carried out at the Clinic, lung cancer patients may also be treated with the 3rd generation tyrosine-kinase inhibitors, ALK inhibitors, Hsp90 inhibitors, neoangiogenesis inhibitors as an immunological therapy including ant-PD-L1 and anti-PD-1 antibodies, that is receive the latest treatment for lung cancer.